Storage and Retrieval Systems for Better Pharmacy Automation
SencorpWhite partners with industry-leading hospitals and automated pharmacy and clean-room integrators, providing White automated storage and retrieval systems for distribution and point-of-use inventory management of high-value medical device, instrument, implantables, and pharmaceuticals.
Secure point of use mobile carousels
White automated storage and retrieval systems are configured to your specific application and easily integrate with leading healthcare inventory management software and/or ERP systems.
White automated pharmacy systems include the WillCall Rx HIPPA compliant fulfillment system, IntelliVert RFID enabled carousels, MicroVert and MiniVert portable, secure point-of-use vertical carousels, and CleanRoom Connect, an ISO Class I cleanroom dual-entry carousel.
Download the MiniVert Product Brochure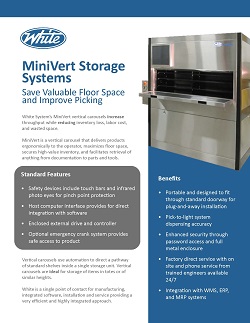 Learn more about
our other solutions.
White, a market leader in innovative, integrated inventory management and high-density storage solutions, is one of the original carousel manufacturers and has stayed at the cutting edge of development over the last 70 years.
Pharmacy Vertical Carousels